Events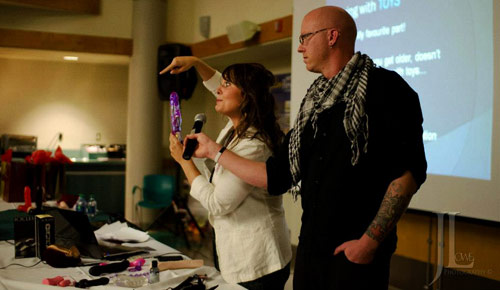 Dr. Carlen LIVE
Dr. Carlen LIVE is a weekly Facebook live show where Dr.Carlen shares the best of sex, love, relationships and life. Viewers are encouraged to ask Dr. Carlen & her guests anything, in real time. Audience participation is encouraged! Dr. Carlen shares her favourite opinions, people, products and places that encourages us all to live an authentic life and learn some cool shit, at the same time.
Check Dr. Carlen's page today!
Sex with Dr. Carlen
Sex with Dr. Carlen is a fun and interactive live show, where Dr. Carlen comes to your campus to talk to YOU all about sex! She travels to University and College campuses all over and discusses all things sex and relationships in an entertaining and informative way. Dr. Carlen covers topics such as safer sex and barrier methods, consent, orgasms, STIs & HIV related info, the health benefits of sex, the media, the culture of hooking up, self-esteem, sexual self-confidence, digital sex and more! When Dr. Carlen brings out her bag of the hottest sex toys on the market right now, you know it's about to real… real sexy.
Audience Involvement
Dr. Carlen gets YOU involved throughout the show, utilizing exercises and audience-friendly demonstrations. Each of these fun, interactive games offers the chance to win a prize, encouraging even more audience participation!
These games can include; Tweet @drcarlen your answer to win a prize, volunteer for the #CondomSense game or, give Dr. Carlen your best Oooooorgasm! Audience prizes are valued up to $1000 per show.
This is a great way to get the audience learning, loving and being part of the fun - because great sex isn't about learning how to do it right, it's about being part of the action.
So, what are you waiting for?
Get your campus on board with Sex with Dr. Carlen. Book now to guarantee your spot for the upcoming year.
Workshops and Presentations
Dr. Carlen has also participated with other groups and companies, at their request, to provide personalized workshops and presentations. She has worked with Lululemon, Rebirth Wellness, Regional HIV/AIDS Connection, The Everything to do with Sex Show, Wanderlust Festival and FASHION magazine, amongst others to deliver programs on a variety of subjects such as intimacy for couples, post-natal sexuality, women and sex, the art of communication, sacred sexuality and more. Dr. Carlen is always prepared to discuss and explore whatever your needs are. If you have a general idea of what you would like presented, she can help guide you and personalize your program.
Please contact Dr. Carlen if you would like to book the "Sex with Dr. Carlen Show" or another workshop and receive a quote for your area.